Create Custom Page Banner in Pebble+
PebblePad includes a default banner image for every new Page. This image can be removed or replaced with another image. PebblePad includes some stock banners; this article includes guidelines for creating a custom banner image to upload to your Pebble+ Page. 

Upload Custom Image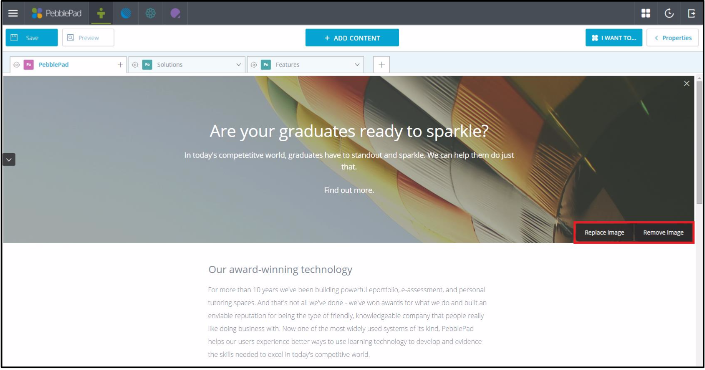 Log into PebblePad from pebblepad.pdx.edu.
Click on the burger menu (three stacked lines like a hamburger) in the upper left corner of your screen, and click Asset Store from the home page.
Get used to using this menu; it's the quickest way to jump from place to place in Pebble+.
Start Here:


Click Get creative in the list, and select Create a page.
On the default banner (by the text that says "Make your page stand out with a banner", click the Replace Image button. 
Click on the Upload tab, and follow the instructions to find your banner file. 
Once you've selected a file, enter a Title, and click Confirm Upload. 
Banner Size Guidelines

The recommended image size for your custom banner is 2000 x 400 pixels. You can resize an image in image editing software, such as Microsoft Paint (Windows), Preview (Mac), or Adobe Photoshop. If you are not sure how to resize an image in the software you are using, try searching on the internet for guidelines. 

NOTE: Template and Workbook assets also include banner images. The recommended size for these items is 980 x 196 pixels.